Create, Edit Student's informations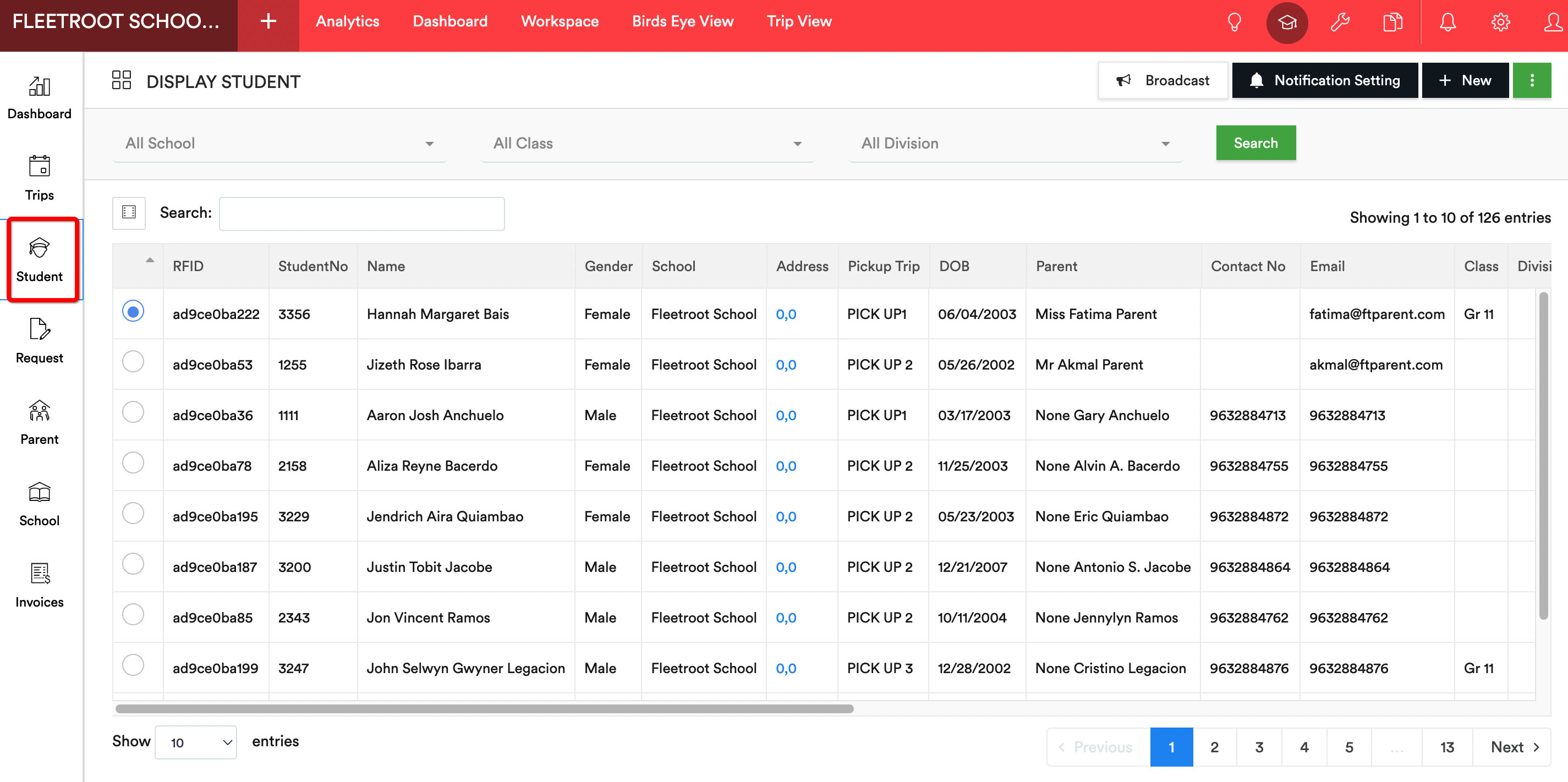 1- Active Students

Select School.

Select Class.

Select Division.

After clicking on the​ 'Search' b​utton. It will display all students of selected school, class and division. By Default all students are Displayed.
Broadcast
You can send a brodcast message to the parents from this window.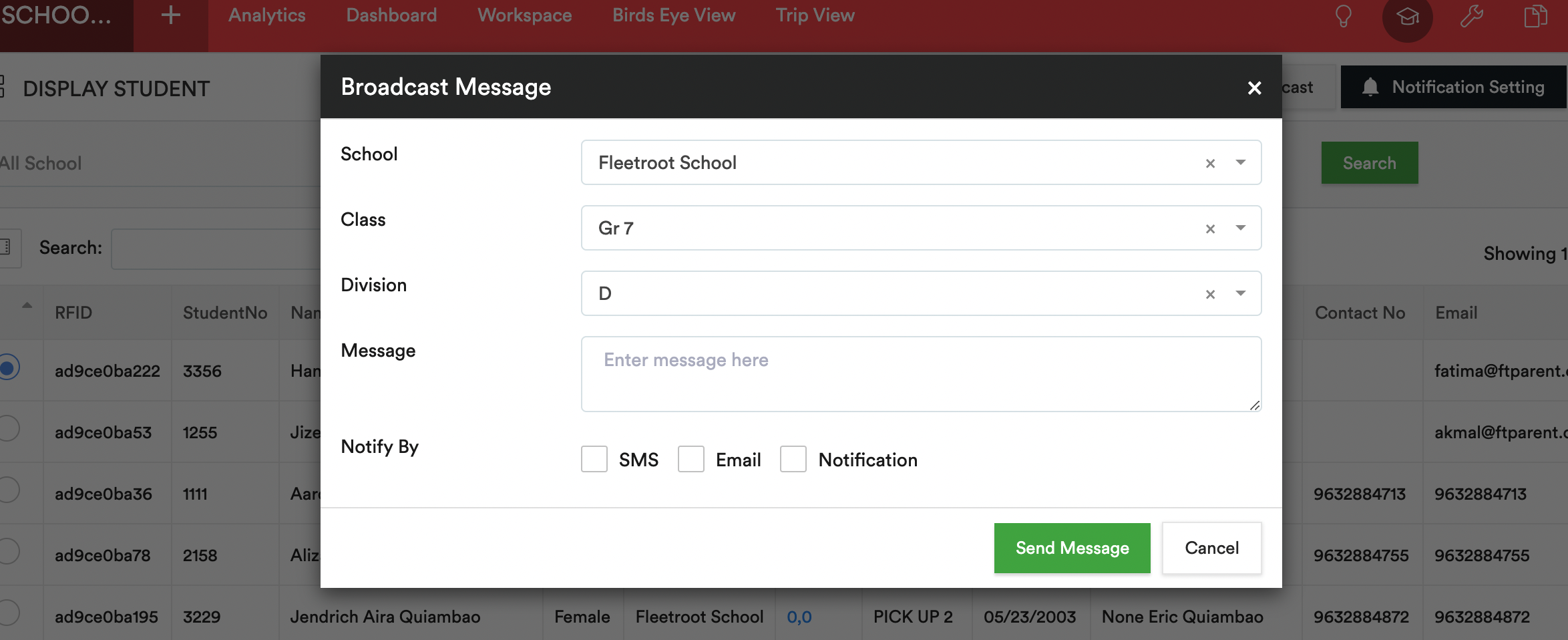 Notification Settings
Here you can set up the student's (
all or Individual students)
notifications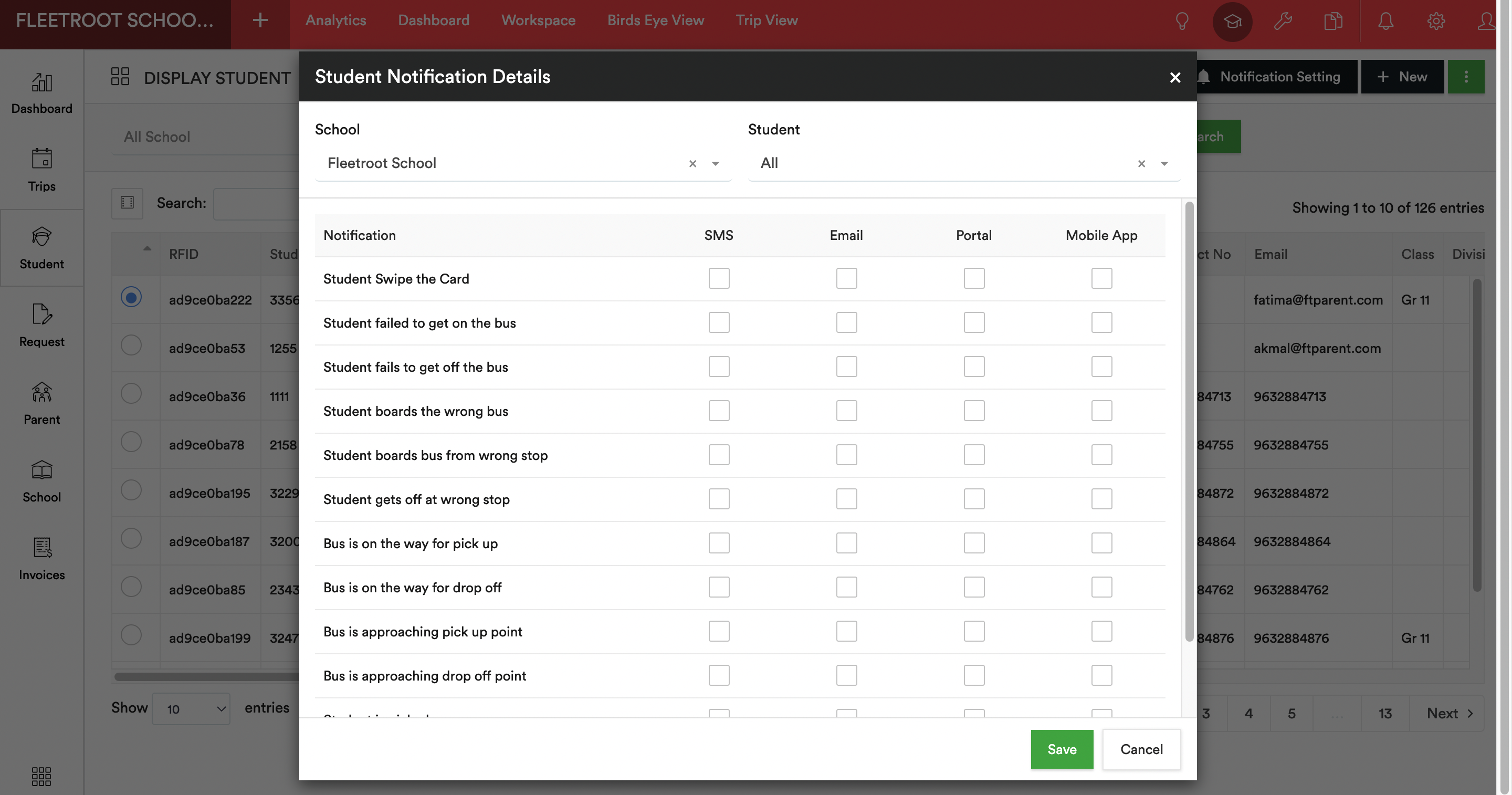 Add New Student
You can create a new student by clicking the "new" button or Import Bulk data.
Import Bulk Student data:

Create one by one: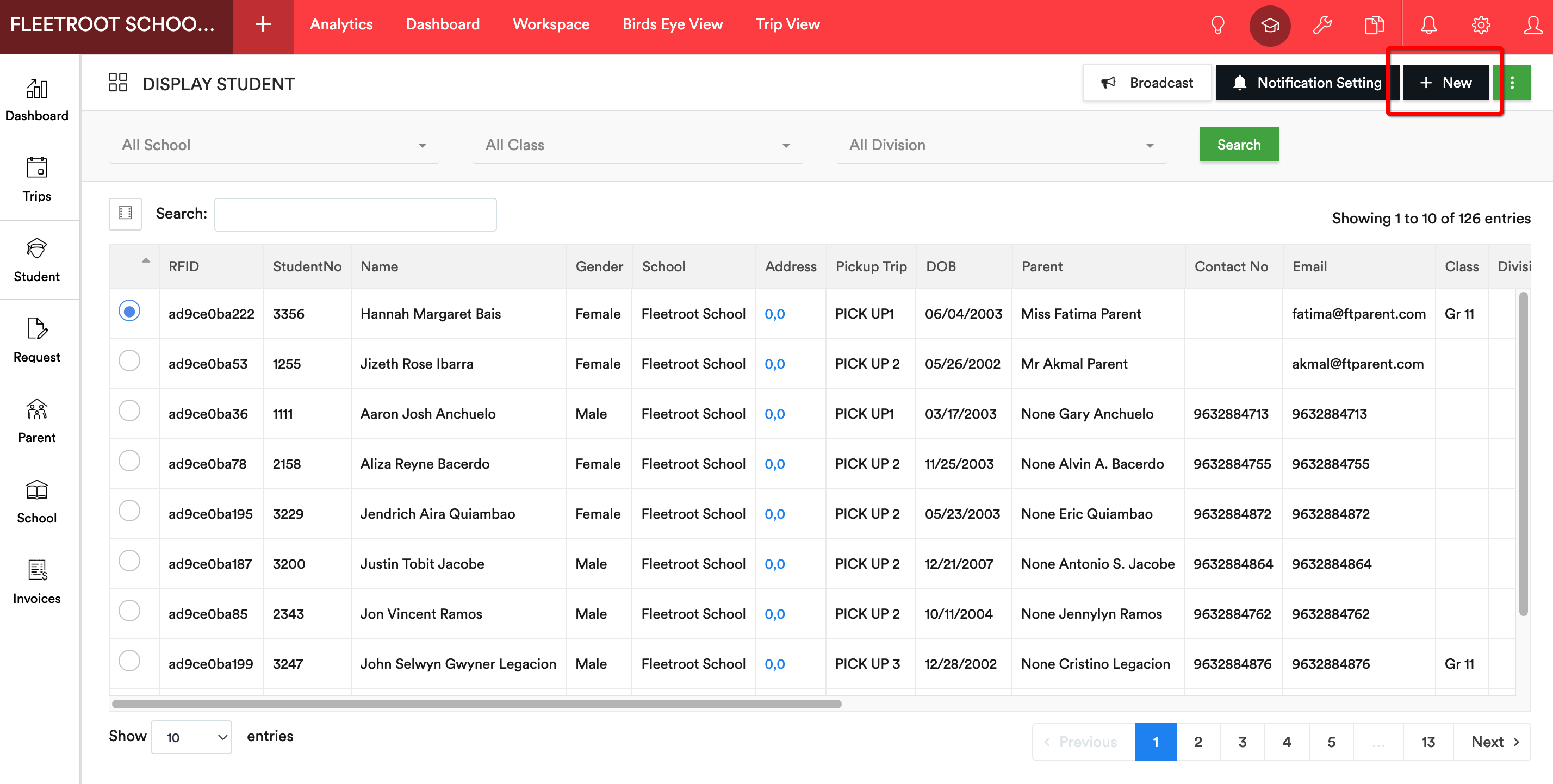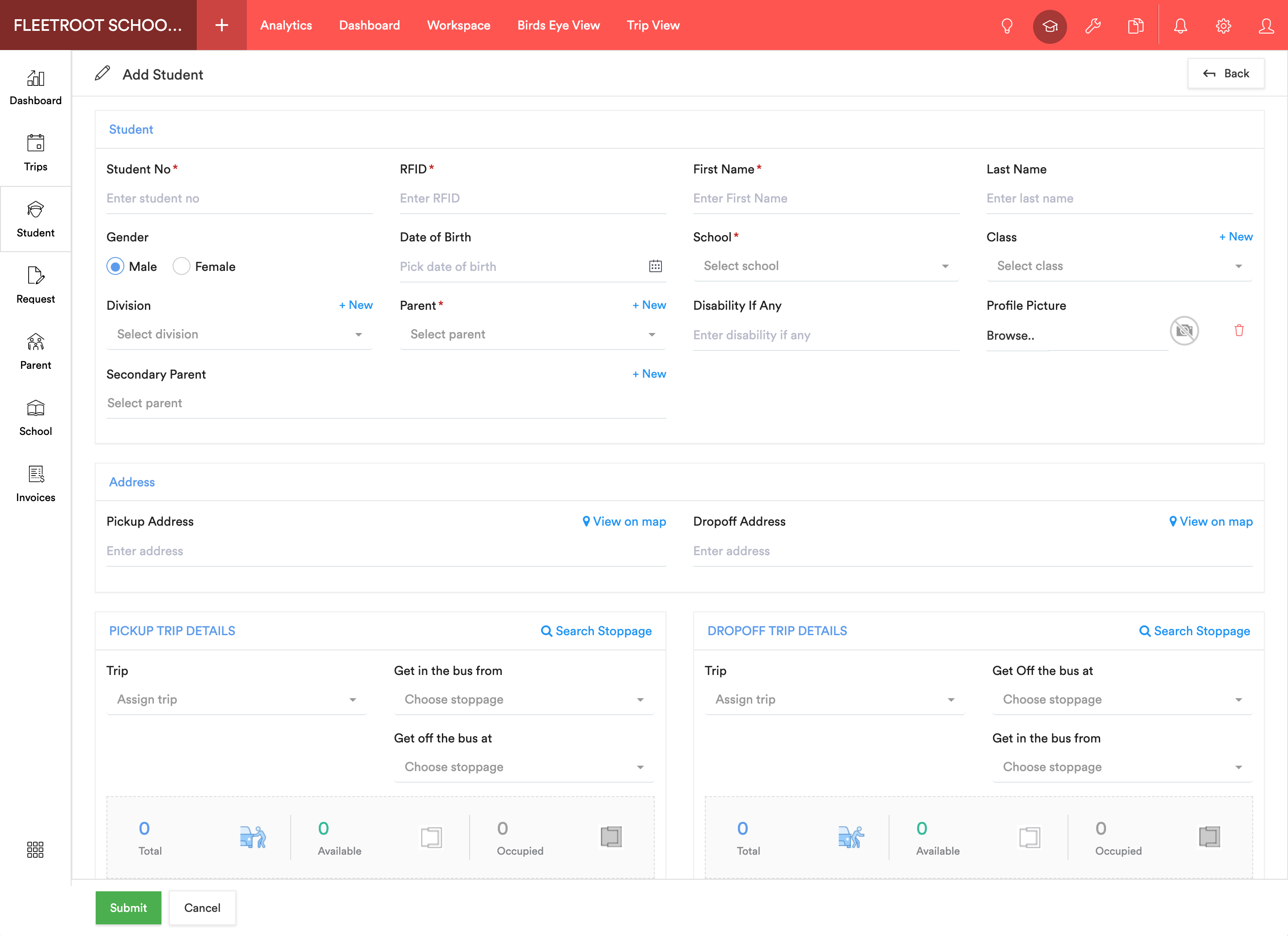 Import to Update:- Import all Existing Students with updated data.
Here you can simply click on the Existing Student file to download it.

Update that downloaded file.

Select the updated file by clicking on browse.

Click on the import icon to import the updated file.
Reconcile Trip Assignment:- Update Trip Schedule Data
When clicking on the 'Yes' button, it will update all assigned Trip Schedule data otherwise no.
2- InActive Students

Here you can see all inactive students list.
Select school.

Select Class

Select Division.

Click on 'Search', it will show all inactive students of the selected school, class, and division. By default, it shows all inactive students.
Right Click on the students and;
You can activate an inactive student by simply clicking on ​'Mark As Active' ​.

You can delete inactive students.

You can release the RFID of an inactive student by simply clicking on '​Release Rfid'​ . It helps to assign that Rfid to another student because the inactive student doesn't require Rfid
You can Export and Print All Inactive Student List.

3- Promotion Management
This is a Help to move multiple students from one class to another class.

Note​ :- Perform Promotion Active from higher class to lower class means 10th class followed by 9th class.
Select multiple students.

Select current Class of Student

Select current Division.

Select Promotion to -

4.1 Promotion - A student is passed and it will be gone from one class to another.

4.2 Pass Out - Student Education is completed and it will leave school.
4.3 Left Out - The student had left school in between education.

Select Class in case of Promotion.

Select Division in case of Promotion.

Finally, click on Proceed to complete the student promotion operation.