How to get started with the Dispatch Dashboard?
How to get started with the Dispatch Dashboard?
Upon signing in to the account, you will be directed to the dispatch dashboard. The dispatch dashboard gives you complete visibility of each delivery by managing the order planning and the agents on the move. The dashboard primarily consists of 3 panels: the task panel followed by the map screen, and then the agent panel.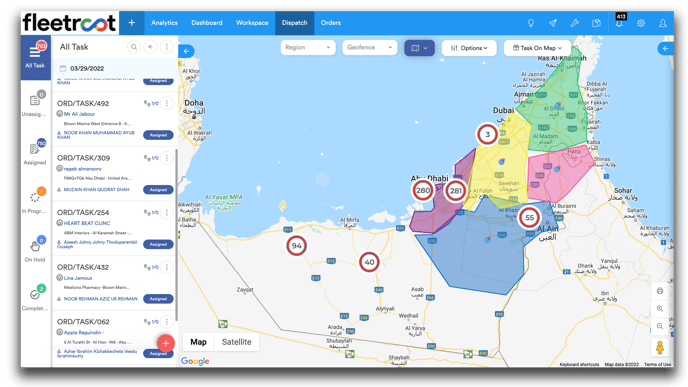 Task Panel
The task panel provides the task details segregated w.r.t their real-time status that are categorized as unassigned, assigned, in-progress, on-hold and completed, where on-hold is an exception.

Choosing the dashboard view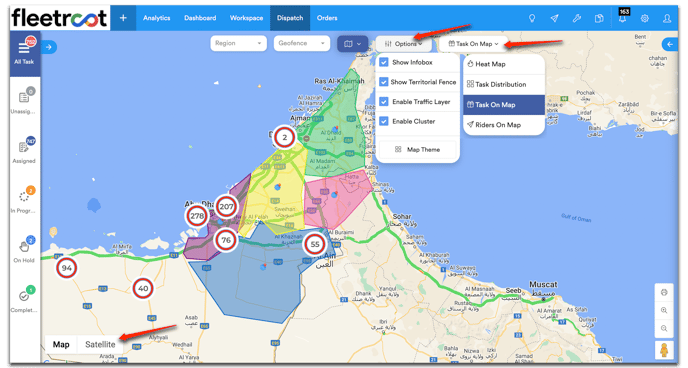 On the bottom left corner of the map, you can choose between the Map view and the Satellite imagery by simply clicking on the one you wish to use. By clicking on Options, you can specify further map details by checking and unchecking the corresponding boxes to acquire real-time traffic visibility or additional map themes.
You can find either the tasks or agents on the move on the map. You can also enable or disable info Box, Territory, Traffic, Task Cluster, Heat Map, Task on map etc.
The map view can be switched to other viewing panels like the Kanban and grid views.

Filtering tasks based on region
You can use the Region option on the map screen to only view tasks placed from the desired region.Monitoring tasks
In order to track and monitor a specific task, you may click on the task, which will open up the task details with the waypoints and audit trails.
Monitoring Riders/ Drivers
On the LHS of the screen, the agent panel showcases the particulars of the agents are sorted based on their availability as in on-duty, free and off-duty.
When a driver marks themselves online in the app, their presence will be marked on the map with the bike icon (this means they can receive and see tasks assigned to them). The same will be reflected on the agent panel with a bright green dot indication on their display picture.
Offline drivers have a orange dot indication on their display picture on the panel and they are shown on the map only if you have allowed this in the map settings (Show off duty).